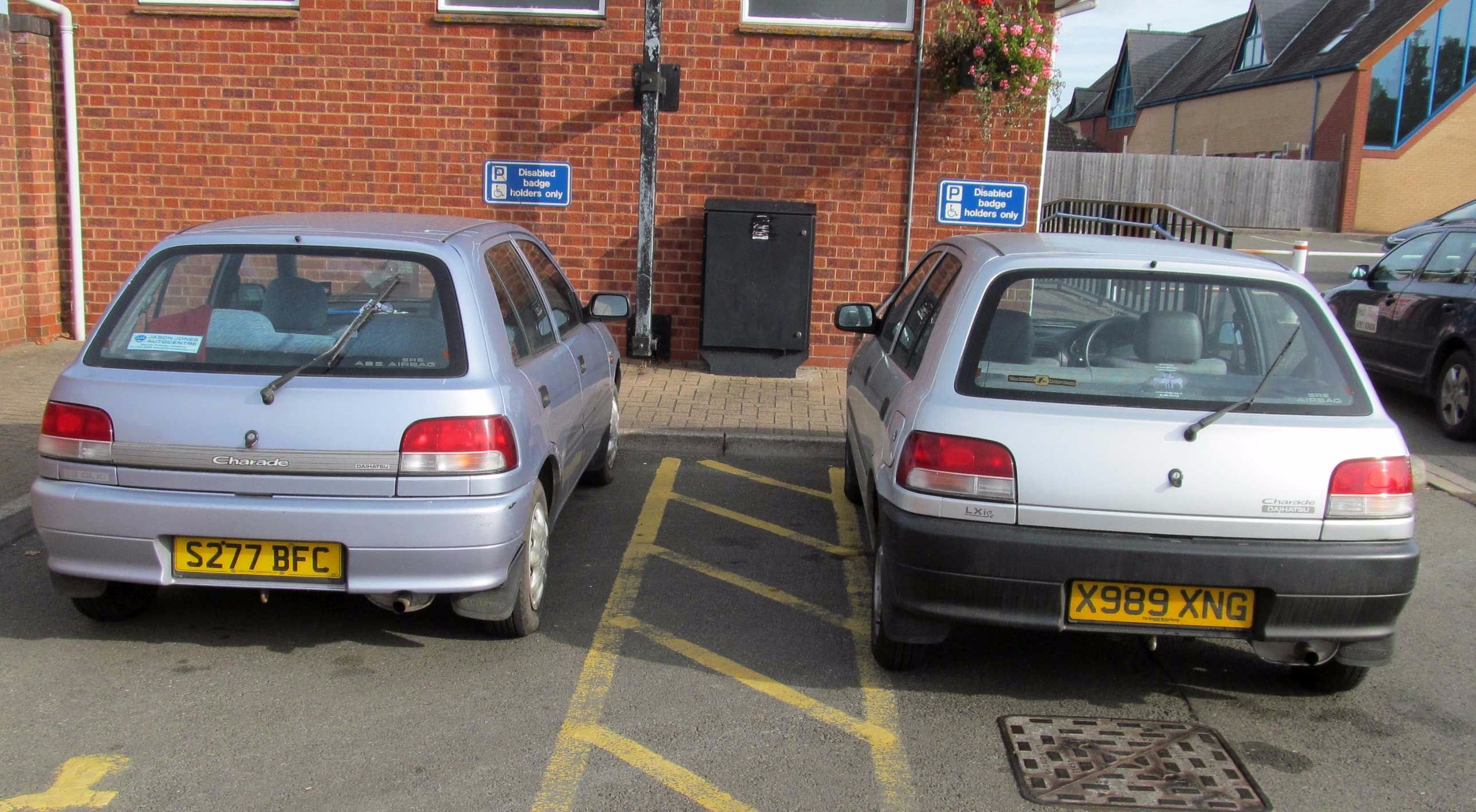 Adventures of Zing, X reg Daihatsu Charade
An update from 'Zing'
Late October, 2016
Hello, Everyone!
For those of you who managed to wade through my last Blog submission, here's another! Since announcing myself via the kind offices of Aunty Caroline and Uncle Simon Shield, I've not really had all that much time to put my thoughts into words from my parking place. Simply, I've been too tired because I've been rushed off my wheels going hither and thither and then hither and thither again!
Jiminy, if what I've been doing over the last three months is what a car is normally expected to do, there's no doubt I've had a quiet life until now.
At the time of writing, I'm absolutely sick of the M40 – or at least the bit between Warwick and London. It seems to be populated by maniacs and if you could understand the things I hear from other cars who pass me (on either side) at ludicrously high speeds, they're not at all happy either. And what's more, I DO NOT like London and I've had really rude things said to me by things called Taxis than I ever thought possible. As for those huge things painted red that think they own the road, they terrify me.
But 'The Bloke' does his best to look after me and I shouldn't really complain. I get a regular bath, my insides are vacuumed fairly often and my oil and water levels are checked almost every day, tyres too.
I've been all over the place – apart from the M40 and London.
Spent a happy afternoon in a car park in Essex a few weeks ago. I took 'Mr and Mrs Bloke' up there because they had to attend something called a Tribunal. Not that they were in any trouble themselves but they were there to represent someone who the charity that they run was supporting. Obviously, I can't say anything about the detail of why they were there but when they came out, they were seething with anger. From what I could pick up from the conversation they then had in my front seats, it seems the Tribunal had had to postpone the Hearing and the Secretary of State for Work & Pensions was heading towards a Summons for Contempt of Court – so it all gets messier by the day.
So, it'll be Essex again soon, a few more M40's and heaven knows what else.
Two weeks ago, I got to know the M1 in both directions when 'The Bloke' folded down my back seats to fit in one folding display stand, two roller banners, a huge plastic box full of lots of things that made it very heavy, two computers, two folding chairs – and a large suitcase. All this was intended for use at the Annual Conference of the Royal College of General Practitioners in Harrogate. I hadn't the faintest idea what General Practitioners are/were and it wasn't until I found myself in the Harrogate hotel car park and surrounded by Ford Transits belonging to BT Open Reach, that I was told the answer. It seems a General Practitioner is to humans what members of The Worshipful Company of Spanner Wankers (supposedly called Mechanics or Technicians) are to us cars and trucks. Anyway, I spent two days sniffing round Harrogate and then home again.
The following week, 'The Bloke' did something with me called 'The School Run' to collect Jackson (8) and Rees (5) from school. Everything went swimmingly. First of all, 'The Bloke' arrived at the right school (which was something of a feat) and early (which was even more remarkable) – and parked me in a crowded gravelled area. Then he returned with the two boys, strapped them in and we fought our way out of the car park. It was only about a mile from school to home but that journey required a sharp right turn at some traffic lights in the middle of town. 'The Bloke' saw a gap in the traffic, heaved on my wheel and let out my clutch to dodge through the slot – and that was when my steering went wonky. Somewhere between the school car park and the traffic lights, a nice sharp nail had gone through my left front tyre wall which meant a new tyre – and that didn't please him. Anyway, we managed to get me parked by the kerb and I heard 'The Bloke' say to the boys, "now I want you both to be very good, stay in your seats and not move at all. I've got to change a wheel before we can see Granny."
Well, the old duffer rummaged in my boot, found my spare wheel, jack and wheelbrace and with a few more grunts and oaths, I was jacked up with my wheel off.
And then, both 'The Bloke' and I were amazed to hear a very young voice (that of Rees who had been told to stay in his seat) say, "Oh my god. What a bloody mess!" Unknown to 'The Bloke', both boys had very carefully and quietly got out and were both standing there, watching from a discreet and safe distance.
My spare wheel went on at the speed of light!
Finally, I'm delighted to show you a picture of my back end, parked alongside another Daihatsu Charade that I came upon quite by chance a few weeks ago.
That's me on the right.
On the day in question, 'The Bloke' and I were somewhere near Cheltenham and by the way he was wriggling around in my driving seat and muttering under his breath, I knew something was amiss. We were suddenly halted at a light-controlled pedestrian crossing and an old duffer was tottering across with a shopping trolley when 'The Bloke' yelled out of the window, "excuse me Sir, but is there a Gents anywhere near here"?
The old duffer looked back at us, adjusted his hearing aid and said, "Eh"?
'The Bloke' repeated the question much louder (by which time the lights had turned green and horns were blowing behind us) and then the old man registered the request.
"Down the road, second exit on the roundabout, do three sides of the car park, take the first left past the Fire Station and you'll see it straight ahead of you."
My front tyres yelped as we moved off, the roundabout was taken on two wheels, round the car park in three nanoseconds, first left, I was airborne over the 'sleeping policeman' and then there was an ominous kerb facing me – and approaching VERY fast, behind which was what appeared to be a very solid brick wall! At the last moment, my brakes were slammed on, he switched me off, grabbed the keys, fell out of the driver's door leaving the door open and his seat belt trailing – and ran for all he was worth for something behind the brick wall.
A minute or so later he emerged with a look of the greatest relief on his face and closing my door, took this photograph of us. I must say, it was really nice being able to meet one of my close relatives and have a quick chat – but I do have to say I'm usually driven more considerately and that looming brick wall did give me a very nasty fright at the time. I know 'The Bloke' hit his head on my roof when we took off over the speed bump but that's not my fault.
Ah, well. I suppose it's all in the call of duty and I've been promised a really thorough wax polish soon and before the winter sets in, to hopefully help protect my paint from the snow and frost. After that, I guess it'll be another trip down that damned M40 to make sure I haven't forgotten it.
As if I ever could!
See you again soon.
'Zing'
Latest News
07-06-2022
Where is my spare wheel? A weekend away, someone else is driving. What a…
Read more >
13-04-2022
Easter seems to have come around very quickly this year and it is a late one…
Read more >
25-03-2022
As of 25th March 2022, it will be illegal to use your handheld mobile phone…
Read more >