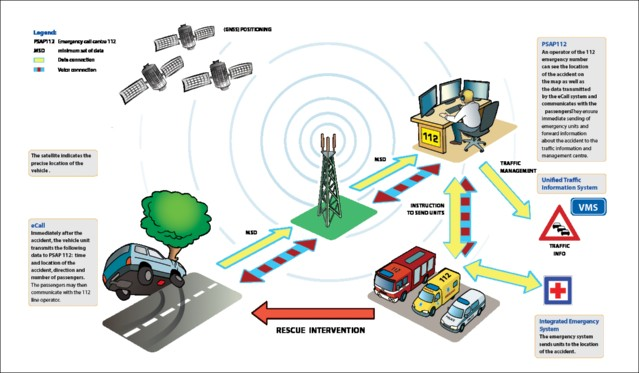 All new cars to be fitted with tracking devices from October 2015
E-call will be installed in every new car and van from October 2015, say the European Union. What is it you ask? It's an automatic emergency calling system. If you're involved in an accident the car wil automatically call 112 (not 999 as this isn't recognised across Europe). It will determine your exact location using GPS and calls a 112 operator who can call the relevant emergency services to you. If you witness an accident, you can also press the button manually to call 112. This will connect you to an operator and you can relay the information manually.
The Daily Mail online printed this in May 2014:
Every new car sold in Britain will have to have a 'black box' device fitted to track drivers' movements from next year, under plans being imposed by the European Union.
Despite serious concerns about privacy and cost, UK ministers admit they are powerless to stop the Big Brother technology being forced on motorists and car makers.
The Government believes the gadget, designed to help emergency services find crashed vehicles, will add at least £100 to the cost of vehicles without providing significant safety improvements.
Read more: http://www.dailymail.co.uk/news/article-2625244/EU-bug-car-UK-tracker-chips-Ministers-admit-powerless-stop-Big-Brother-technology.html#ixzz3DfdZhkej

Getting an immediate alert in the event of an accident and knowing the exact location of the crash site cuts emergency services' response time by 50% in rural and 40% in urban areas. Thanks to this gain in time, eCall is expected to save several hundred lives in the European Union each year, and to mitigate the severity of tens of thousands of injuries. eCall will also result in faster treatment of injured people, thereby giving accident victims better recovery prospects. Arriving at the accident scene sooner will also allow faster clearance of crash sites, thus reducing the risk of secondary accidents, decreasing congestion times,
cutting fuel waste and lowering CO2 emissions.
Is the offical blurb on it.
Tests are ongoing throughout Europe but not in the UK. We shall wait and see what happens next.
Latest News
07-06-2022
Where is my spare wheel? A weekend away, someone else is driving. What a…
Read more >
13-04-2022
Easter seems to have come around very quickly this year and it is a late one…
Read more >
25-03-2022
As of 25th March 2022, it will be illegal to use your handheld mobile phone…
Read more >