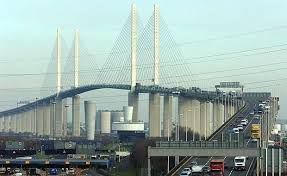 Are you aware of the changes at the Dartford Crossing?
The Dartford Crossing near London is the only way across the River Thames on the M25. Since 1991, the toll booths have been gathering money on both sides of the river. The bridge was paid off in 2003 and it was thought that there wouldn't need to be any further toll taken. How wrong can we be. The French company, Sanef, now own the crossing and want to gather more money over a 10 year period. However, you won't be able to pay whilst crossing anymore, the barriers are being removed and you're expected to pay by phone or over the internet before midnight of the following day.
50 million vehicles use the the crossing, a year, how much are we going to be fined if we don't pay the £2.50 car toll, £105. The cost is £2.00 at the moment.
Each car's number plate will be recorded on ANPR cameras on either side of the crossing. They will cross reference the payments made and if you've not paid a fine will be sent to you.
A recent AA poll showed that 85 per cent of it's members were not aware of the changes.
If you travel outside the normal hours you won't need to pay 10pm -6am.
However, the congestion that you face both sides every day is starting to become a problem. We recently drove through on a Sunday afternoon and had to wait in the queues for over an hour.
Hopefully with the removal of the barriers it will start the traffic flowing again.
Latest News
07-06-2022
Where is my spare wheel? A weekend away, someone else is driving. What a…
Read more >
13-04-2022
Easter seems to have come around very quickly this year and it is a late one…
Read more >
25-03-2022
As of 25th March 2022, it will be illegal to use your handheld mobile phone…
Read more >