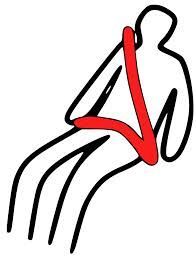 Are you wearing a seatbelt?
The joint police forces of Norfolk and Suffolk are stopping drivers and checking that seatbelts are worn. If you're caught not wearing one, a fixed fine of £100 wil be issued.
Police will be carrying out checks as part of the Europe-wide TISPOL seatbelt enforcement initiative (8-14 September).
The aim is to raise awareness of how many collision-related injuries and fatalities can be prevented by the wearing of seatbelts, which is now compulsory in most European countries.
When we were little in the 1970's seat belt wearing wasn't compulsory and it only became law on 31st January 1983 and it was retained permanently in 1986.
In 1989 it became compulsory for children to wear seatbelts and in 1991 for rear passengers to wear them too.
The fine back in the 1980's and 1990's was £50 so it's only doubled since and the police were advised on the softly softly approach. Read the article from the BBC website from 1983 http://news.bbc.co.uk/onthisday/hi/dates/stories/january/31/newsid_2505000/2505871.stm
You've been warned.
Latest News
07-06-2022
Where is my spare wheel? A weekend away, someone else is driving. What a…
Read more >
13-04-2022
Easter seems to have come around very quickly this year and it is a late one…
Read more >
25-03-2022
As of 25th March 2022, it will be illegal to use your handheld mobile phone…
Read more >