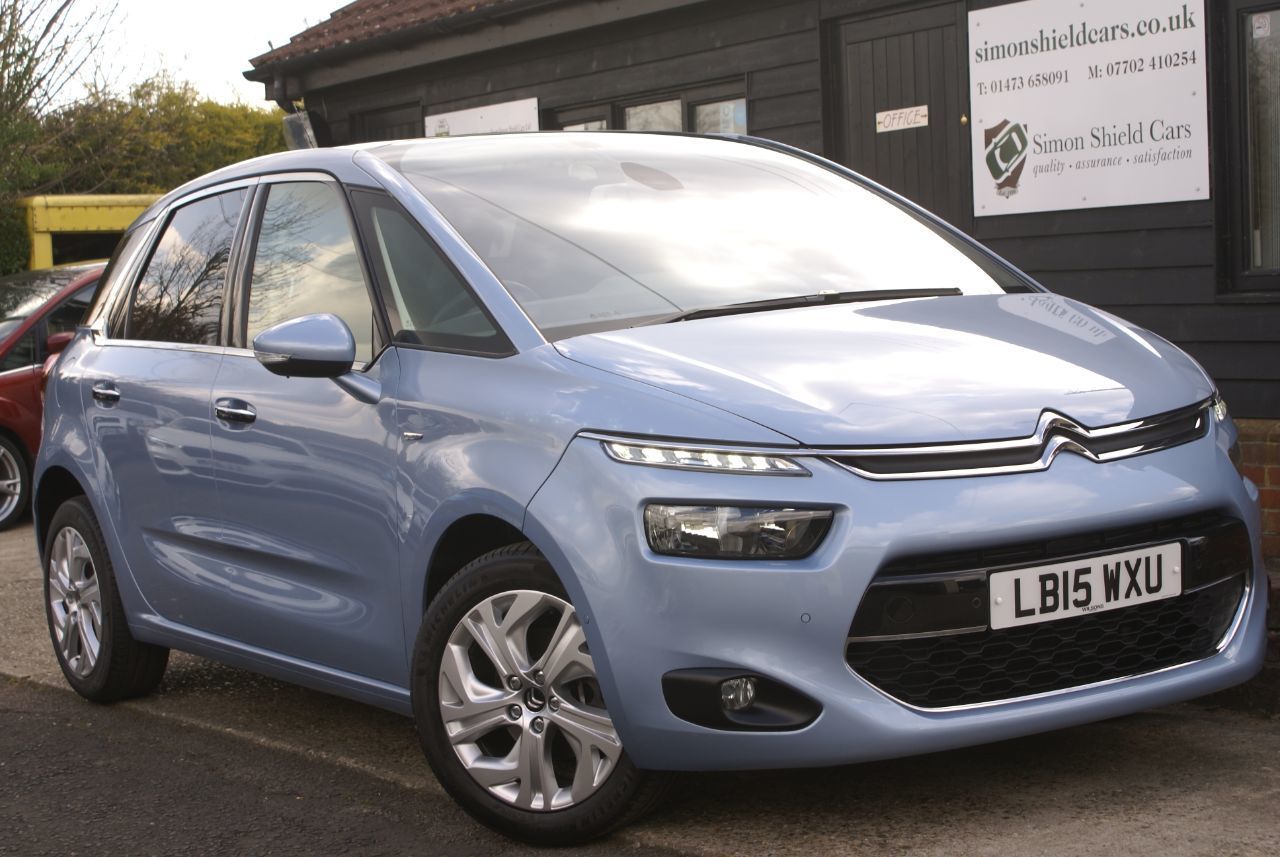 Futuristic Citroen C4 Picasso arrives at Simon Shield Cars
The Mark 2 Citroen C4 Picasso is a very clever piece of product design and has taken many features from the DS line. It offers practicality, with style, glass and futuristic features. It has many techy gadgets and a more efficient engine. When you jump inside the car, you will notice the panoramic windscreen. Push up the sun visors and look up, your normal upward 28-degree angle of vision will be increased to a massive 108-degrees - a better view out in fact that you'd get roof-down in a convertible where the windscreen rail is usually directly above your head, giving it a lofty, airy feel inside the cabin. If you don't like it you can always drop the sun visor down. There is 20mm more legroom than the Mk1 model, which is interesting considering the new platform is shorter than the Mk1. The passenger can relax and look up into the sky with a bolster that comes out to help stretch your legs. The rear passengers aren't badly catered for either with 3 separate rear seats that can recline, fold flat or slide backwards and forwards independently of each other. The 537-litre boot space beats its rivals by miles and if you fold the seats flat this will increase to 1,823 litres. You can always put the middle rear seat down and turn it into a table. There are also fold-down tables on the back of the front seats together with 12v sockets for your kid's gadgets.
The Citroen we know and love is back in the shape of Picasso. Simon Shield Cars love this car and can't wait to show you around, why not give us a call today on 01473 658091 or click the link here: https://www.simonshieldcars.co.uk/used/citroen/c4-picasso/16-e-hdi-115-exclusive-5dr/ipswich/suffolk/18884803/#top-image
Finance options available in the form of PCP and HP leasing.
Latest News
13-04-2022
Easter seems to have come around very quickly this year and it is a late one…
Read more >
25-03-2022
As of 25th March 2022, it will be illegal to use your handheld mobile phone…
Read more >
18-03-2022
Do you use your local car wash? I found out something new today a Car Wash…
Read more >