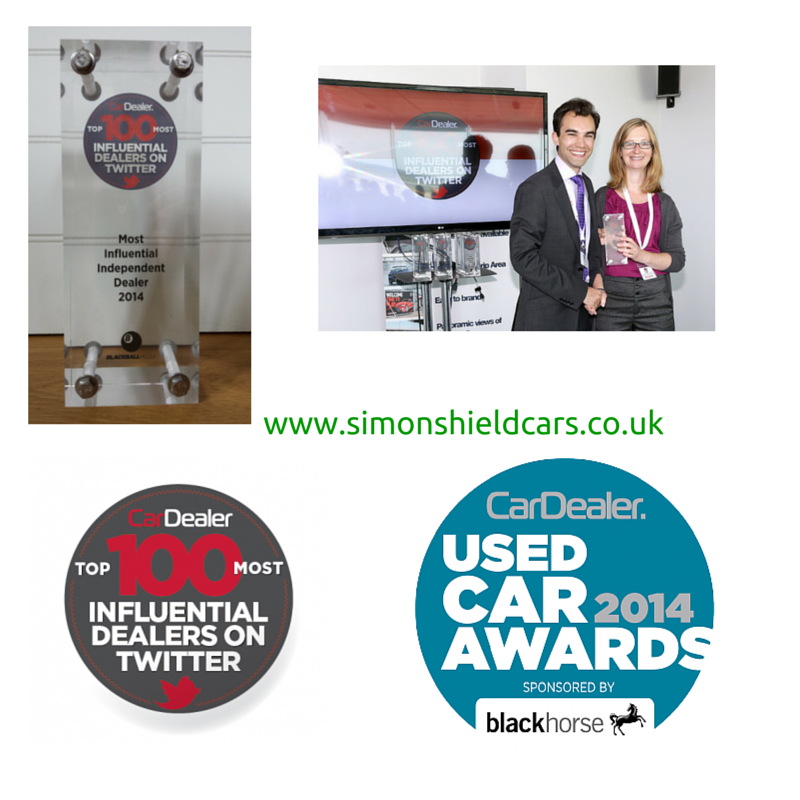 Have you got the red carpet ready?
Awards time of year and Simon Shield Cars has been nominated for....
Social Media User of the year
Earlier this year, June to be exact, Caroline received the award for being the "Most influential independent dealer on Twitter 2014" from Car Dealer Magazine. Car Dealer magazine used the Klout scoring system to collate the list. The updated list has just been released and we're now sitting at number 12. Suddenly the dealers have all woken up to Twitter and Klout scores are rising.
The award ceremony is taking place on Monday 1st December at The Brewery, London.
Press release has just gone out:
Power under the hood
Suffolk businesswoman Caroline Shield has found herself on the shortlist for one of the most prestigious awards in the motor industry the Car Dealer Magazine's Used Car Awards 2014 but it's not all about cars…
Caroline has been shortlisted for Car Dealer Magazine's Social Media User of the Year, showing that even if you own a smaller business you can have a massive influence nationwide.
Caroline uses twitter and blogging to promote the family business Simon Shield Cars Ltd, an independent second hand car dealership based in Great Bricett near Ipswich. She started two years ago and this is the second time she has been nominated for an award. The first time Caroline won the Car Dealer magazine's most influential independent dealer on Twitter 2014.
Caroline says: "Using social media has transformed the way we do business we can chat to potential customers online even if they don't live in Suffolk and potential customers can check out our cars on line and through social media even when we are closed. It's like having our own nationwide shop window 24/7."
"Being nominated for awards such as this means a great deal to us as we are only a small outfit compared to others, we have no big social media or press budget and I am the only one making it happen! It can get quite manic fitting it all in between book keeping, dealing with customers face-to-face, looking after the family and the dog. It all happens during school hours and after dark but I just love it!
"It is a great way for raising your business profile, making new contacts and getting new and bolstering repeat business."
Caroline is ranked within the Top 20 of the Top 100 Most Influential Car Dealers on Twitter. You can follow her on twitter @simonshieldcars or catch up with her blog http://femaleusedcarexpert.blogspot.com or indeed check out the family business website: www.simonshieldcars.co.uk
The Car dealer used Car Awards 2014 are being held in London on Monday 1 December. Caroline is up against
@Captaincaralot of Derbyshire based car dealer Caralot
@Imperialcarsupermarket of Hampshire based Imperial Car Supermarket dealership
@Perrysmotors a UK wide car dealership in 25 locations nationwide
@Prestigediesels of Portsmouth
Contact Caroline Shield on: Simon Shield Cars Ltd, Base Garage, Great Bricett, Ipswich, IP7 7DR tel: 01473 658091 / 07776 141837or email: simonshield@yahoo.co.uk
If you cannot get hold of Caroline please do not hesitate to contact
Liza Helps
Helps PR
01449 673952
or 07540624360
Keep your fingers crossed for us.
Latest News
13-04-2022
Easter seems to have come around very quickly this year and it is a late one…
Read more >
25-03-2022
As of 25th March 2022, it will be illegal to use your handheld mobile phone…
Read more >
18-03-2022
Do you use your local car wash? I found out something new today a Car Wash…
Read more >