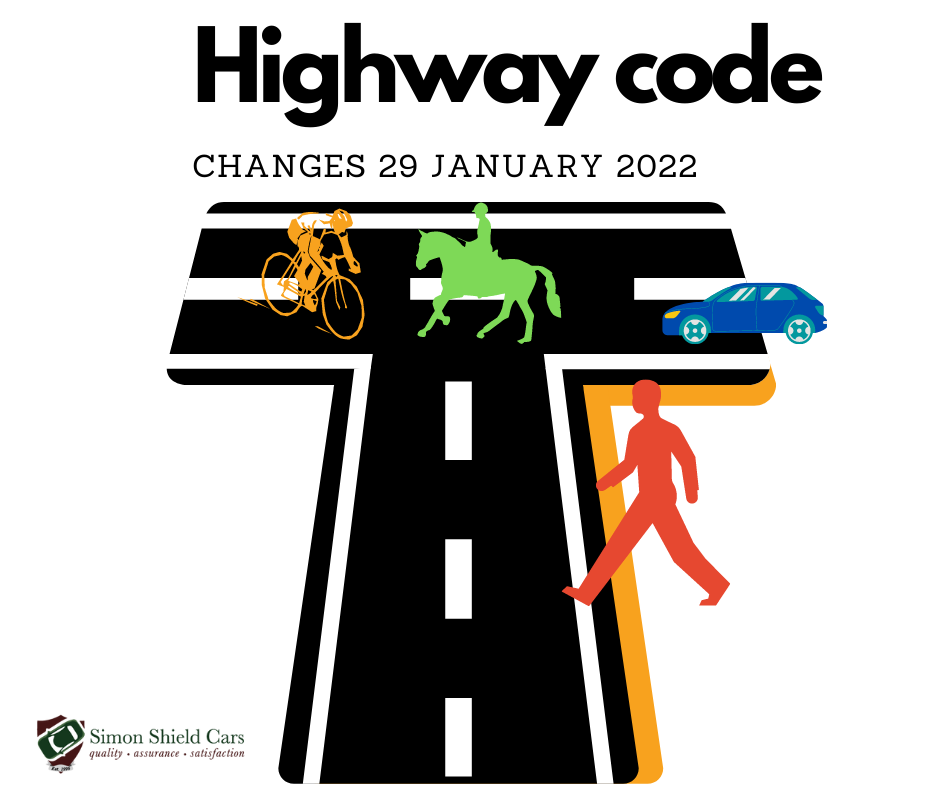 Highway Code change 29 January 2022
The Highway code is changing on 29th January 2022. The hierarchy on the road is changing with pedestrians at the top of the chain. This is the new hierarchy:
Pedestrians

Cyclists

Horse riders

Motorcyclists

Cars/taxis

Vans/minibuses

Large passenger vehicles/HGVs
Basically, it means that those walking, wheeling, and cycling are now the vulnerable road users and drivers must ensure their safety.
Hierarchy of road users
Those that could do the greatest harm have the greatest responsibility and must reduce danger wherever possible. For example, a cyclist must look out for a person walking or a driver must look out for walkers, cyclists, and horse riders.
Junctions
When drivers are turning at a junction, they must assess whether a pedestrian needs to cross the road. The pedestrian has right of way. Drivers should also give way to horse riders and cyclists.
Distances
Drivers are now instructed to leave a distance of at least 1.5 metres when overtaking pedestrians, cyclists, or horse riders. If they are on the road this increases to 2 metres.
And finally have your heard of
Dutch reach
The Dutch reach method is when you park up on the side of the road and open the car door onto the roadside or pathway. Before you open the car door, use your opposite arm to open the door, which in turn means you turn your head over your shoulder to see what is behind you. This should stop "car dooring".
If you would like to read the full changes click the highway code here:
Latest News
13-04-2022
Easter seems to have come around very quickly this year and it is a late one…
Read more >
25-03-2022
As of 25th March 2022, it will be illegal to use your handheld mobile phone…
Read more >
18-03-2022
Do you use your local car wash? I found out something new today a Car Wash…
Read more >