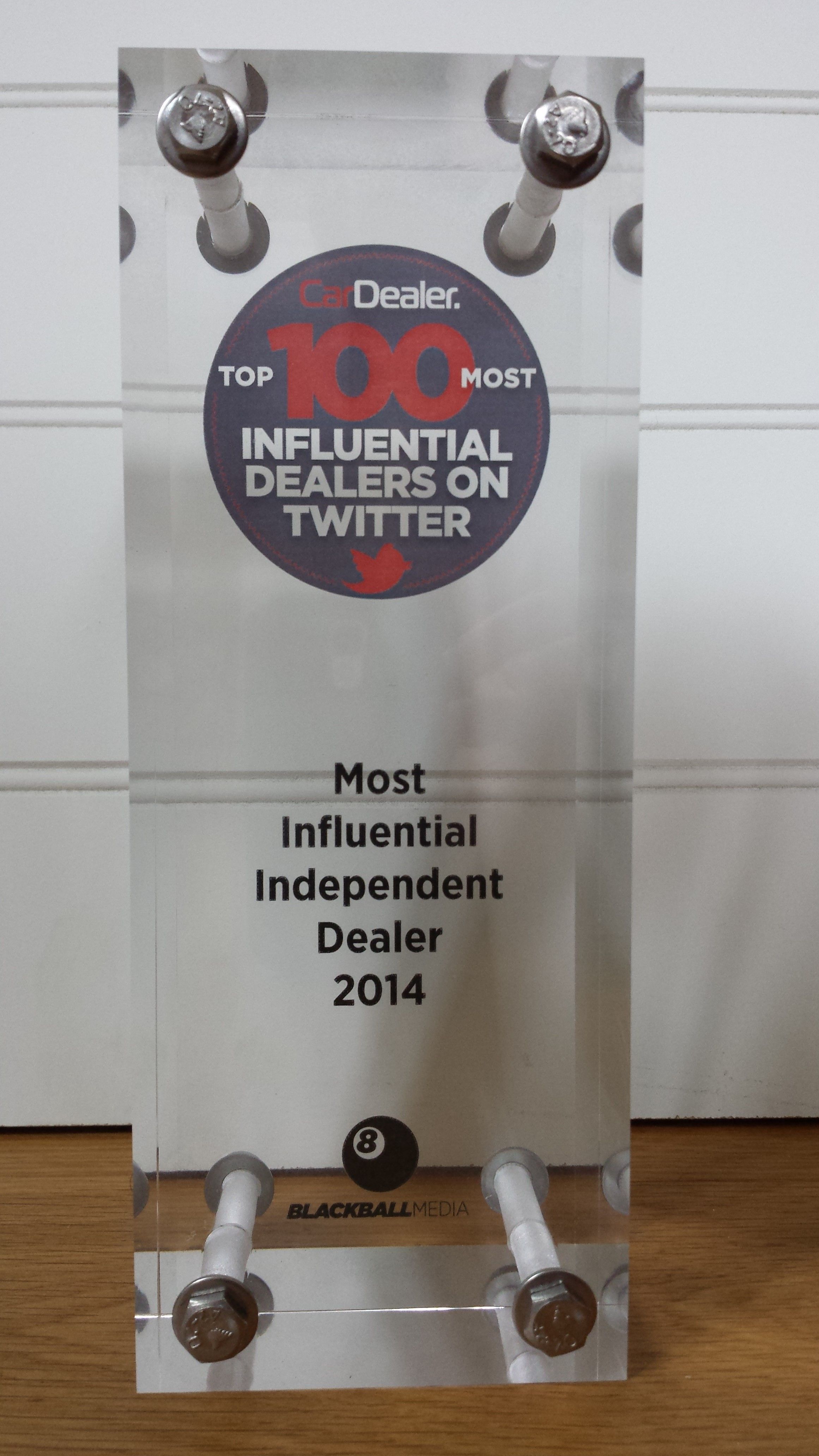 Most influential independent car dealer on twitter 2014
Simon Shield Cars are the most influential independent car dealer on twitter, as collated by Car Dealer Magazine and Klout.
Caroline attended a car conference on Friday and was presented with this award. Simon Shield Cars are just behind Perry's Motors who have 14 franchises around the Midlands. Simon Shield Cars is run by just Simon and Caroline in rural Suffolk. From the same site, near Ipswich for the last 18 years. Simon has been in the car trade for over 30 years.
Simon Shield Cars moved from 7th position to 2nd within the last 6 months.
Car Dealer Magazine quotes
"Caroline Shield's performance was particularly impressive, however. With a Klout score of 64, she moved up from seventh and beat some of the UK's largest dealer groups in the process."
'Simon and I are thrilled to be the second most influential car dealer in the UK,' she said. 'Social media is a big part of our marketing strategy and to be recognised for this is tremendous.
'Engagement, brand awareness, building up relationships, having fun and meeting new people has brought Simon Shield Cars Ltd prominence. Thank you Car Dealer Magazine for collating the list.'
A Klout score is a number given between one and 100, which takes into consideration a user's interaction on Twitter to work out their overall influence – the higher the number, the more influential the user.
If you would like to read the full article and find out who came next read it here http://cardealermagazine.co.uk/publish/publish-list/81324
Latest News
13-04-2022
Easter seems to have come around very quickly this year and it is a late one…
Read more >
25-03-2022
As of 25th March 2022, it will be illegal to use your handheld mobile phone…
Read more >
18-03-2022
Do you use your local car wash? I found out something new today a Car Wash…
Read more >