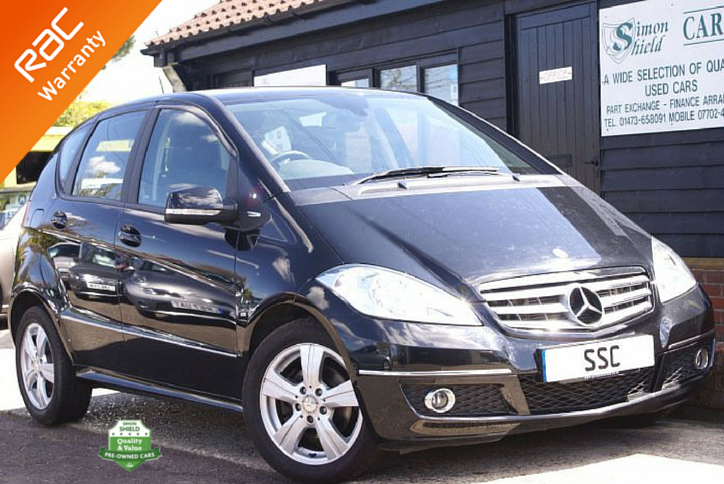 Spacious MPV Mercedes A class A160
Turn the clock back to 1997, the ThrustSSC sets the first supersonic land speed record and the Mercedes A Class is born. Frankfurt Motor Show had the first sightings, with a change of direction and demographic for Mercedes, as they moved into the MPV market. Mercedes had always been known as the chauffeurs preferred vehicle.

It was designed on the sandwich principle (frontal-impact absorption), all the components would slip under the passenger cabin if there was an accident. Tick for safety, Mercedes.

Third generation A-Class came in 2008 and made a nigh-on perfect platform to showcase its environmental credentials. Under emergency braking from a speed exceeding 30mph, the brake lights flash rapidly to warn following traffic, enabling drivers to respond quicker and prevent a collision. Also introduced was Hill Start Assist, which prevents the A-Class from rolling backwards when the driver moves from the brake pedal to the accelerator when moving off on an uphill gradient. The car is more comfortable as a result of the facelift initiative's new interior materials, with improved adjustment and support in the seats. All models got new infotainment systems with Bluetooth connectivity. The rear seats don't slide but they do flip forwards to reveal a long flat floor and the Easy Vario Plus system allows the cushion of the rear seat to be secreted under the boot floor. 435 litres to 1,995 litres when seats folded down. Not bad for a car that is less than 4 metres long.

The dashboard looks like a scaled down version of the E Class fascia, which probably came from the fact that the designer used to work on the E Class before moving over to the A. A Berlin customer clinic, helped develop it, where everything from materials to feel to door slam and indicator sounds were exhaustively tested.

All units are Euro IV compliant with high strength steel alloys with bonded joints. Front wheel drive. A "Selective Damping System", in which the shock absorber forces respond differently according to conditions. For example, when you drive along the road at a gentle speed it'll have soft absorption but when you corner it, it'll harden up.

It comes in petrol and diesel versions but the A160 2 litre diesel is cheap to run. By now all the faults and problems of the earlier models have well and truly been ironed out.

So what are you waiting for take a look, there are two for sale on our website.
http://www.simonshieldcars.co.uk/used/mercedes-benz/a-class/a160-cdi-avantgarde-se-5dr-cvt-auto/ipswich/suffolk/16039487
http://www.simonshieldcars.co.uk/used/mercedes-benz/a-class/a160-cdi-avantgarde-se-5dr-cvt-auto/ipswich/suffolk/15732785
Latest News
07-06-2022
Where is my spare wheel? A weekend away, someone else is driving. What a…
Read more >
13-04-2022
Easter seems to have come around very quickly this year and it is a late one…
Read more >
25-03-2022
As of 25th March 2022, it will be illegal to use your handheld mobile phone…
Read more >