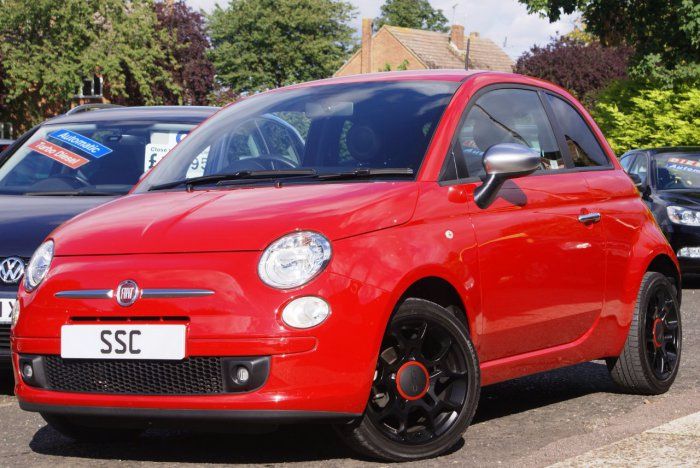 Throwback Thursday Fiat 500
Fiat 500 was voted the sexiest car back in 2006 by Top Gear magazine (must have been read by lots of women) and again in 2008 by Evecar.com.
The Fiat 500 driver is the sort of person who "doesn't have to try", Top Gear editor James May said.
"Our No. 1 sexiest car, the Fiat 500, advertises nothing about its owner, except that it's someone who doesn't need to try. So you look, and you know. You would, wouldn't you?"
Fiat 500 goes way, way back to 1957 to the orginal cinquecento and built by the Italian company Fiat. The new ones appeared on the market in 2007 with a huge display in Turin and 29 other cities around Italy celebrating 50 years of the old 500 launch. The designer who penned the Trepiùno concept was Roberto Giolito. This car featured a distinctive retro-look resembling the original Fiat 500, which proved to be an enormously practical and popular vehicle throughout Europe.
It's been going from strength to strength ever since winning multiple awards for Engines, sexiness, European car of the year 2008, best small car, best city car, you name it, it has the award.
There are over 500,000 personalised combinations so if you buy one new you can choose, colour, body trim, wheels and it's specific to you in a four seater, 3 door car (back seats might be a challenge to get in and out of).
Fiat 500 1.2 Street
Engine is 1242cc 8v
75lb/ft torque
top speed of 99mph
start/stop technology reducing the CO2 to 113g/km
0-62 will take you 12.9 seconds approximately
Combined fuel consumption should take you to 65.7mpg
It has seven airbags around the car and Euro5 rating beating the Mini in this category. The start/stop system stops the engine automatically whenever traffic conditions bring the car to a complete halt, and restarts it when the driver wants to move off again. The car reduces fuel consumption by up to 12% over a regular 1.2 Lounge in urban driving, with 113g/km CO2 emission. Other standard features include hands-free telecommunications and entertainment system.
Euro NCAP test results
Fiat 500 (2008)
Test
Score
Rating
Adult occupant:
35
Child occupant:
28
Pedestrian:
14
Come and take a look at the 1.2 Street in stock today. Click here for more details.
Latest News
07-06-2022
Where is my spare wheel? A weekend away, someone else is driving. What a…
Read more >
13-04-2022
Easter seems to have come around very quickly this year and it is a late one…
Read more >
25-03-2022
As of 25th March 2022, it will be illegal to use your handheld mobile phone…
Read more >