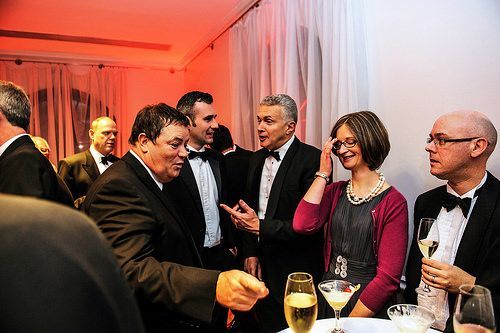 Used Car Awards 2014
The Used Car Awards 2014 happened last night at The Brewery, London. This is the third year it's been held and organised by Car Dealer Magazine. 500 people sat down to a three course meal with wine. The awards ranged from best used car dealer, under 50, 50-100 and over 100, used car dealer group, dealer dealer, used car sales team etc.
Mike Brewer, the man off the telly, was hosting the awards and had to put up with a very rowdy bunch of car dealers. Simon and I were invited to attend and sat on RAC dealer network table. Many thanks to Mario, Sean, Russell, Graeme and Murray from RAC dealer network, who were amazing hosts. RAC organised a VIP reception beforehand, with cocktails. Ut oh.
Caroline was nominated for Social Media User of the year but the competition was very strong, Perrys Motors who top the 100 most influential car dealers on twitter list for the last 2 years, Alexis from Prestige Diesels, who lives on Twitter 24/7, Captain Caralot, who just get Facebook and Imperial Car Supermarkets who came in 3rd on the list just behind Alexis.
Congratulations go to Perrys for winning the award with highly commended going to Prestige Diesels and Imperial Car Supermarkets.
If you would like to look at the photographs of the evening, here's a link to our Pinterest board:
http://www.pinterest.com/simonshieldcars/used-car-awards-december-2014/
Sore heads for many motor traders this morning, but such a stunning event organised by Car Dealer Magazine.
Latest News
13-04-2022
Easter seems to have come around very quickly this year and it is a late one…
Read more >
25-03-2022
As of 25th March 2022, it will be illegal to use your handheld mobile phone…
Read more >
18-03-2022
Do you use your local car wash? I found out something new today a Car Wash…
Read more >