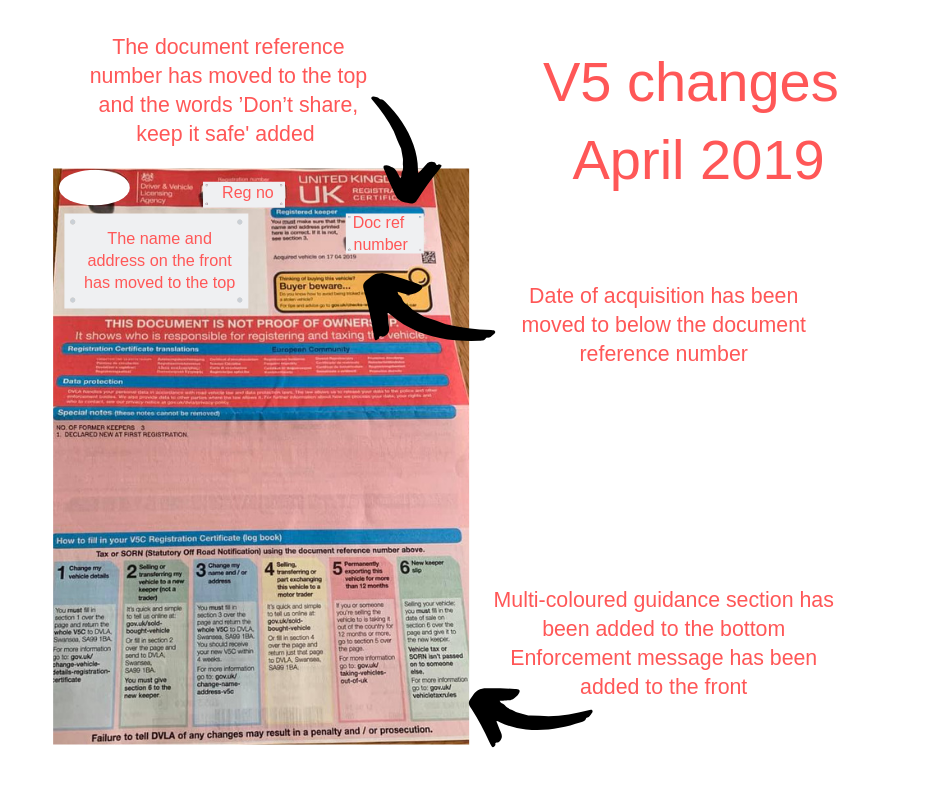 V5 registration document changes - cars
From 15th April 2019, changes will be seen on the new V5C document. The V5C document is the owners certificate to say you own a used car. So what are the changes:
Front cover
The document reference number has moved to the top and the words 'Don't share, keep it safe'
Multi-coloured guidance section has been added to the bottom
Enforcement message has been added to the front
The name and address on the front has moved to the top
Date of acquisition has been moved to below the document reference number
Internal
The vehicle details have been rearranged to the top half of the page to create extra room
Change of keeper and change of name and address have been separated
Customers can now supply contact details
Section 5 (permanently exporting this vehicle for more than 12 months) – country of export field has been added
Section 6 (new keeper's slip) – name and address fields removed
Throughout
Data capture boxes introduced for accuracy and simplification
Signature boxes removed and replaced with declarations in red
Welsh version on one side and English on the other
Back page of the English document has been left blank
V5CW – serialised across the three pages that are V5C issuing sections (at the top)
V5C – serialised on the front cover and back page that are document issuing (at the top)
Document reference number has been added to each section
Simplified instructions
Perforations have been changed on the last page (the only separated section is the green 'new keeper' slip)
Your old V5C documentation is still valid and you will only get a new one if you notify them of any changes for example, change of address, sold on etc
Any questions, please don't hesitate to contact Simon Shield Cars on 01473 658091.
Latest News
13-04-2022
Easter seems to have come around very quickly this year and it is a late one…
Read more >
25-03-2022
As of 25th March 2022, it will be illegal to use your handheld mobile phone…
Read more >
18-03-2022
Do you use your local car wash? I found out something new today a Car Wash…
Read more >