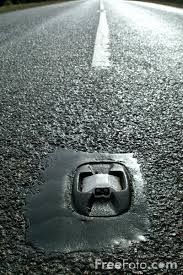 Where have all the cats eyes gone?
Have you noticed, when a road is resurfaced, that the cat's eyes disappear. Sometimes they're replaced, more recently not. Councils are being urged to switch off street lights after midnight.
OLDER drivers are possibly becoming "prisoners in their own homes" due to the pressure on councils to turn off street lights at night, a road safety group has warned.
Better maintained white lines on the roads are the key to "unlocking freedom" for elderly motorists, said the Road Safety Markings Association (RSMA).
The association's national director George Lee said: "There is mounting pressure on road authorities to turn off street lights at night, and we know that road markings are not being maintained to compensate."These factors may be keeping older family members needlessly prisoners in their own homes."
Five years ago a new form of cat's eye was adopted. These use solar powered lights that can be seen from 10 times farther away. Just two hours' sunlight is said to keep road "studs" illuminated for days. Nearly all Shaw's original Catseyes have been removed or have disappeared, replaced mostly by white lines. On forgotten country roads some survive, still guiding motorists on murky winter nights.
Latest News
13-04-2022
Easter seems to have come around very quickly this year and it is a late one…
Read more >
25-03-2022
As of 25th March 2022, it will be illegal to use your handheld mobile phone…
Read more >
18-03-2022
Do you use your local car wash? I found out something new today a Car Wash…
Read more >