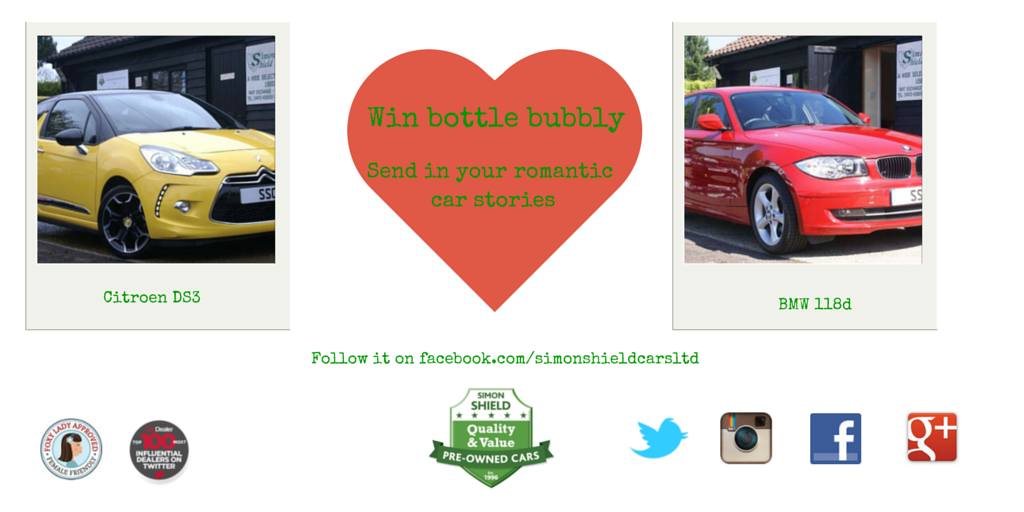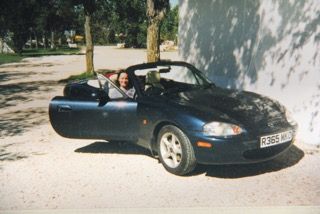 Win a bottle of bubbly
In our Facebook competition. Tell us all about your romantic car stories in the build up to valentines day. The winner will be announced on Saturday 14th February 2015 and also sent a lovely bottle of bubbly. Here's the link to find out more: http://a.pgtb.me/ljSS1x
Here's one to start you off.....
You can be as hard headed and as practical as you like but just sometimes it's love at first sight and that can go for cars too...
My friend Charlie bought his Mazda MX5 Mk2 (1998) because it was the only sports car at the time that had a boot big enough to fit his golf clubs.
However, the Mazda proved to be more than just a practical golf bag carrier it actually bagged Charlie his wife. He says it was love at first sight. Not for him, he'd known Liza since she was 4 years old, rather she fell in love with the car and well the rest they say is history.
It was August 1998 and the Mk2 with its new sleeker shape was beginning to make quite a stir in motoring circles and Charlie was the proud possessor of a rather fine dark blue with cream leather interior specimen (with all mod cons of course).
Now as everyone knows a fine young man, with good job, good prospects and sports car must be in search of a girlfriend at least. And so it was with Charlie. He'd set his heart on his childhood friend Liza but she seemed totally indifferent that is until he turned up with the Mazda. It's not every young man who will let a young woman drive his open top car down the Kings Road in London on a Saturday evening at the height of summer especially without him in the passenger seat Let's say it was a rather novel way of courting.
He'd let her drive the car and she in turn at least was eager to see him every time he came round to say: "Hi!"
Things became more serious though over a road trip to the South of France to visit her family at the end of the summer and by the time the long weekend was over they were officially an item. Eighteen hours in close proximity to one another on a balmy moonlit night driving through the French countryside can hardly be more romantic and the story does not end there, the honeymoon saw both Charlie, Liza and the Mazda train through Europe to Spain where they wended their way down the Costa Brava taking in sun, sangria and heavenly sea views.
They have been married for 16 years now and as for the Mazda MX5? I am pleased to say they still have it though when the children came along there was a point when Charlie was dead set on selling it. Liza had other plans and loaned it out to her father for three years in the belief that "out of sight would be out of mind" thus saving her true love forever......
What a lovely story - now it's your turn. Click here to send us your story
Latest News
07-06-2022
Where is my spare wheel? A weekend away, someone else is driving. What a…
Read more >
13-04-2022
Easter seems to have come around very quickly this year and it is a late one…
Read more >
25-03-2022
As of 25th March 2022, it will be illegal to use your handheld mobile phone…
Read more >