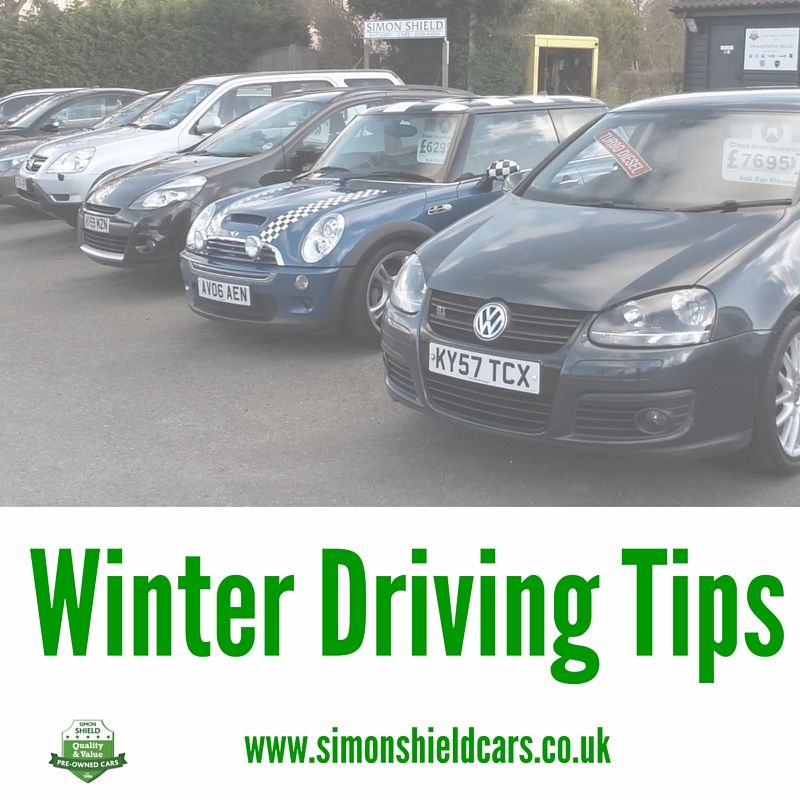 Winter driving tips
Winter doesn't officially start until 21st December but the weather has a mind of it's own. And we're having typical winter conditions in the UK, one day of icy weather, the next wet and damp, the following day bright and sunny but cold. So how do you drive in these changing conditions. Plenty have bought winter tyres and this week has been the changeover period. Even in wet conditions, the winter tyres help keep you on the road.
Winter maintenance
Check your tyre pressures and tread depth, 3 mm in tread in these conditions. Oil, antifreeze and battery life are also worth checking.
De-ice your car before going anywhere. Clear or demist all your windows including mirrors. Remove snow from the car and ensure you can see out.
The sun can be low in the sky at this time of year and cause reflections, so take your time. Use your visor.
Driving
Firstly slow down and understand that driving in wet or icy weather means it takes much longer to stop. Arrive at junctions and roundabouts slower, using the gear changes and keep moving if you can slowly. It's much harder to get going again from a complete standstill.
Maintain a proper distance from the car in front, crucial on the motorways. At least one cars distance, you see the signs on the road surface. I know it's not always easy as cars pull into the gap. If they do, just pull back and slow down.
If at all possible, drive in the tyre tracks of the vehicle in front. If it's snowy or icy.
If you end up following lorries or buses closely, make sure you're not in the tyre spray, as this will most likely impact your vision.
Keep a close eye for brake-lights further ahead of you, on the road, to alert you to an impending stop. Especially if it's rushhour and there's lots of traffic about.
To slow down, don't immediately apply the brakes unless a forced stop is necessary, simply take your foot off the accelerator. Sudden application of the brakes can cause the car to skid or provoke a panic reaction from the car behind.
Use your headlights at all times to increase visibility. But note that if your car has daytime running lights (DRL's) do not rely on them as your rear lights will not be switched on when only these are in operation!
If your windscreen wipers are over a year old, replace them for better clearing ability.
Never drive through moving water if you cannot see the bottom through it.
If you have to drive through a flood then ensure it's safe to do so, drive slowly and follow the path through it which is likely to be the shallowest. Watch other drivers and see where they are driving through the water. Slip the clutch as well if you have a manual to avoid water from travelling back up through the exhaust. Always test your brakes after driving through large puddles too.
When hitting a large patch of water at speed, avoid using any steering and from hitting the brakes. Slow down by taking your foot off the accelerator and track through it straight and true.
If you do find that your vehicle is skidding, then steer into the direction of the skid to correct it and avoid suddenly pressing the brakes. Gentle inputs only.
Emergency kit
Keep an emergency kit in the car of essentials should you be involved in an accident or your car breaks down. The RAC (we use their warranty part of the company) have one for sale and it includes:
Snow shovel
High vis vest
Foil blanket
RAC Pebble wind-up torch
Trigger de-icer 500ml
Screenwash 1 litre
Ice scraper with mitt
Nylon drawstring storage bag
I think you should also add in chocolate, coats and water for hydration.
Have the telephone numbers of your breakdown service handy and keep your phone charged to make that call.
Good luck over the winter with our changeable weather and see you out the otherside in the spring time.
Latest News
13-04-2022
Easter seems to have come around very quickly this year and it is a late one…
Read more >
25-03-2022
As of 25th March 2022, it will be illegal to use your handheld mobile phone…
Read more >
18-03-2022
Do you use your local car wash? I found out something new today a Car Wash…
Read more >